Car Insurance for Electric Vehicles, Is There a Difference?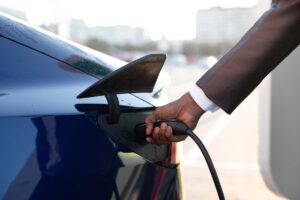 Electric vehicles (EVs) are becoming increasingly popular, as people become more conscious of the environment and the need to reduce their carbon footprint. As EVs become more common, it's important to consider the differences in car insurance for electric vehicles. In this blog post, we will explore the differences in car insurance for electric vehicles and what you need to consider when purchasing insurance for your EV.
The differences in insuring electric vehicles
One of the most significant differences in car insurance for electric vehicles is the cost. Generally, electric vehicles are more expensive to insure than traditional gas-powered vehicles. The reason for this is that electric vehicles are still relatively new, and their repair costs can be higher due to the specialized equipment and expertise needed to repair them. However, as more people adopt EVs and repair costs decrease, insurance rates are expected to decrease as well.
Another factor that affects insurance rates for EVs is the battery. EV batteries are a significant part of the vehicle, and their replacement cost can be high. As a result, insurance companies often have different policies for EVs with batteries that have reached the end of their useful life. This is because a failing battery can impact the performance of the vehicle and increase the risk of accidents.
Additionally, there are some unique risks associated with owning an electric vehicle that traditional gas-powered vehicles don't have. For example, there is a risk of an electrical fire, which can be costly and dangerous. As a result, insurance companies may have specific policies to cover these types of risks.
GenAc hybrid/electric vehicle coverage
As an environmentally keen insurance provider, GenAc has an insurance policy for new and existing hybrid and electric vehicle owners, called Ecodrive. This policy offers:
Charging Accessories Coverage – Stationary charging equipment and cables are protected from accidental damage or fire while at your private garage. This coverage may entail the repair, replacement and/or reinstallation of charging equipment based on the severity or nature of the damage.
Free 24/7 Breakdown Coverage – in the event that you run out of charge or need on-the-road assistance.
Manslaughter Defence Costs – automatically included in your motor policy.
Child Car Seat Coverage – automatically included in your motor policy.
Personal Accident/ Driver Coverage – automatically included.
Replacement Electric Vehicle Hire – To reflect your commitment to renewable energy in the event of an accident where you are entitled to a replacement vehicle, we will upgrade your replacement vehicle hire to an electric vehicle or hybrid, subject to the availability from our rental partners.
Wrecker and Storage Fees – includes coverage for removal and storage per the limit specified on your policy schedule.
Windscreen Damage – up to two claims per motor policy annually.
Medical Expenses – automatically included in your motor policy.
At GenAc a greener driver deserves a greener commitment.
Though car insurance for electric vehicles is different from traditional car insurance, getting the coverage you need for your eco-friendly vehicle is easy with GenAc. Visit the GenAc BB website to get a quote today.