GenAc's Leading Lady Now Insurance Association Jamaica (IAJ) President
-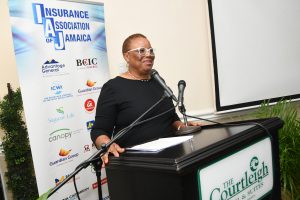 General Accident Insurance Company's Managing Director is the new head of Insurance Association of Jamaica (IAJ). The appointment was announced at the IAJ Annual General Meeting held recently.
Sharon Donaldson, Executive Director and CEO of General Accident Insurance Company (GenAc) previously served the IAJ as the Vice President. No stranger to adding new titles to her list of accolades; Ms Donaldson enters the role with over 20 years of dedicated experience in the general insurance industry.
Serving in previous roles as Financial Controller and Managing Director; the insurance maven holds an LLB from the University of London, an MBA from the University of Wales and is also a registered Chartered Accountant and fellow member of the Institute of Chartered Accountants of Jamaica.
The IAJ has the responsibility of encouraging sound industry practices and ethical conduct of members, while promoting the best interests of the insuring public. The association also acts as the voice of the industry.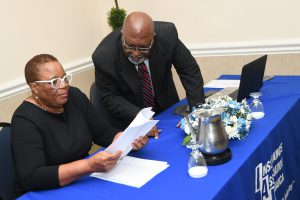 Honoured to be chosen to represent the local insurance fraternity Donaldson shared key areas she intends to have impact,
"A burning issue for me that I plan to address in the next 2 years is literacy. A lot of the time our insureds do not understand what they have actually purchased and they believe they've bought an investment policy rather than an insurance policy. Our job as an insurance industry is to increase insurance literacy so that those who are purchasing insurance will know exactly what they've purchased and how to manage the risk thereby improving the trust factor between ourselves and the insuring public," Donaldson declared in her maiden speech to the press.
She also shared plans to work with the regulatory bodies to create a cohesive environment for all insurance stakeholders to benefit from a flourishing insurance industry.
'I am open, you can always reach out to me as head of the industry should you need any information about the industry and what we hope to do. Our aim is to maintain a robust insurance industry. We play a really significant part in making sure Jamaica's economy continues to grow." the new president announced in closing.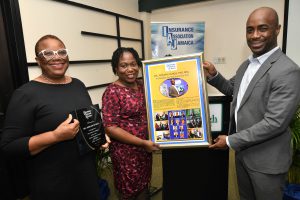 Ms Donaldson has the full support of the Board, Management and Employees of General Accident Insurance Company Limited (GenAc). The team at GenAc congratulates Sharon Donaldson on her appointment as President of the Insurance Association of Jamaica.