GenAc JSE Graduation Listing Makes History
-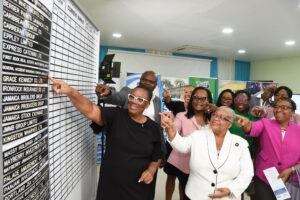 Kingston, Jamaica: General Accident Insurance Company Jamaica Limited (GenAc), a stalwart in the Jamaican insurance industry, celebrated a significant milestone on Friday, September 29th, 2003 as it graduated its listed ordinary shares from the Junior Market to the Main Market of the Jamaica Stock Exchange (JSE).
This is a remarkable achievement for GenAc, signifying its growth and commitment to meeting the governance standards required of companies listed on the Main Market.
In her opening remarks at the graduation listing ceremony, Managing Director, of The Jamaica Stock Exchange (JSE) Group Dr Marlene Street Forrest, welcomed GenAc to the Main Market and highlighted the benefits of being listed on the larger platform, such as increased visibility, liquidity, and access to capital. She also noted that GenAc was the seventh company to graduate from the Junior Market and the first insurance company.
Since its listing on the Junior Market a decade ago,  GenAc has shown exponential growth, with its gross written premium increasing nearly seven-fold. This remarkable success has not only solidified the company's position as a market leader in Jamaica but has also seen GenAc expand in the wider Caribbean region, with operations now established in Barbados and Trinidad and Tobago.
Speaking about this pivotal moment, GenAc Managing Director, Sharon Donaldson, expressed pride in the achievement. "We believe that this milestone reflects the company's ability to adapt, evolve, and thrive in a dynamic market while maintaining the highest standards of governance and transparency," Donaldson said.
"GenAc is proud to join the Main Market as a leading general insurance provider in Jamaica and the region. GenAc anticipates a bright future, and we are committed to delivering value to our stakeholders and contributing to the development of the capital market and Caribbean economies in general, " Donaldson added.